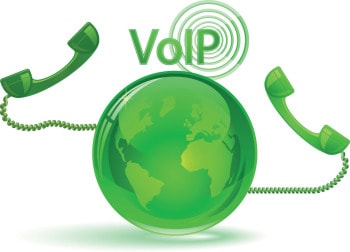 VoIP for Business – VoIP is an acronym for Voice Over Internet Protocol, or in more common terms making your phone calls over a internet or broadband connection. VoIP can work along with your existing PSTN or ISDN lines but usually these lines would be replaced with a dedicated internet connection that will be connected to your phone system.
Why VoIP for Business and what are the Advantages
Lower Costs
The main reason most businesses consider VoIP is the cost savings. VoIP calls National and Internationally are up to 60% cheaper compared to traditional landlines. When you add in you dont need your PSTN, ISDN or PRAs the savings dramatically increase and businesses can save 000's every year.
Existing Numbers
All your existing phone numbers can be ported to VoIP with no changes or downtime. VoIP also gives you the added benefit of using phone numbers from any where in the world so your business can be based locally but have UK, US number etc operated locally from Ireland.
Resilience
VoIP offers a lot more resilience than traditional phone lines because  if there is an issue with your phone system or broadband  the numbers can be diverted to another number or mobile in a matter of minutes. 4G or LTE backup is also available now where your phone system provider can install a 4g sim card as back up to your VoIP connection so your business will not be with phones.
Mobility
In the modern business environment not everyone is desk based or office based, VoIP enables employees to work from anywhere because once they have a mobile phone or PC. This allows employees to be connected to the office and customers from anywhere at anytime.
Cloud based PBX and Features
VoIP also give you access to Cloud based phone system, applications and unified comms features including voice-mail to email, IVR, Mobile apps, Softphones and API Integration with CRMs. A number of providers also offer privately-managed network functionality on the cloud so your communications never travels on the public internet.
Scalability
Scalability is another advantage of VoIP that make it an attractive proposition for any growing businesses. With VoIP if you want to increase the number of channels/lines for you business its only a matter of licensing as you need them, you dont have to wait for installation of traditional lines and the added cost of a monthly line rental.
If you would like to know more you can contact seamus.dunne@conversationpiece.ie or Free Phone 1800-300-677