Are you looking at upgrading your Phone System and considering moving to IP Phone Solutions for small business? Does your current phone system have any features apart from call handling and other basic features like Hold, Transfer etc.?
You may not have asked yourself this question, when looking at replacing your phone system but there is a lot more to consider with the availability of IP and VoIP Phone System Solutions even if you're just looking to update your desk phones. Costs and reliability are probably first and foremost in your mind and we will discuss the advantages and features below of moving to an IP Phone Solution for Small Business as well the cost savings on calls and line rental.
These phone systems will enable unified communications (UC) features, such as conferencing, voicemail to email, softphones and mobile apps which enable you to work remotely from anywhere once you have your mobile phone or Laptop and many more features that will benefit your business.
Why get IP Phone Solutions for small business?
Business IP Phone systems offer HD voice calls, audio conferencing, scale up as your business grows, voicemail to email, auto-attendant, call analytics and other features and functionality your business needs to keep up with larger enterprise competitors.
IP Phone System Solutions enable you to deploy SIP Trunks or VoIP which allows you place your calls over an internet connection. This connection can be shared with your IT or we can supply a dedicated connection for your IP Phone System. This allows you cancel down your expensive ISDN or PSTN line rental while also reducing your call rate within Ireland and internationally saving you up to 70% on your phone bill.
How your business can benefit from a IP Phone Solution VoIP
Business IP systems are becoming the No 1 solution for smaller businesses. Choosing the best VoIP Provider for small business can go a long way towards making your company competitive. Conversation Piece uses the latest Cloud Technology from the enterprise sector at a price that SMEs can afford and use.
The advantages of an IP Phone Solution
There are a lot of advantages to moving to an IP based phone system and the top features and reasons to move today are listed today.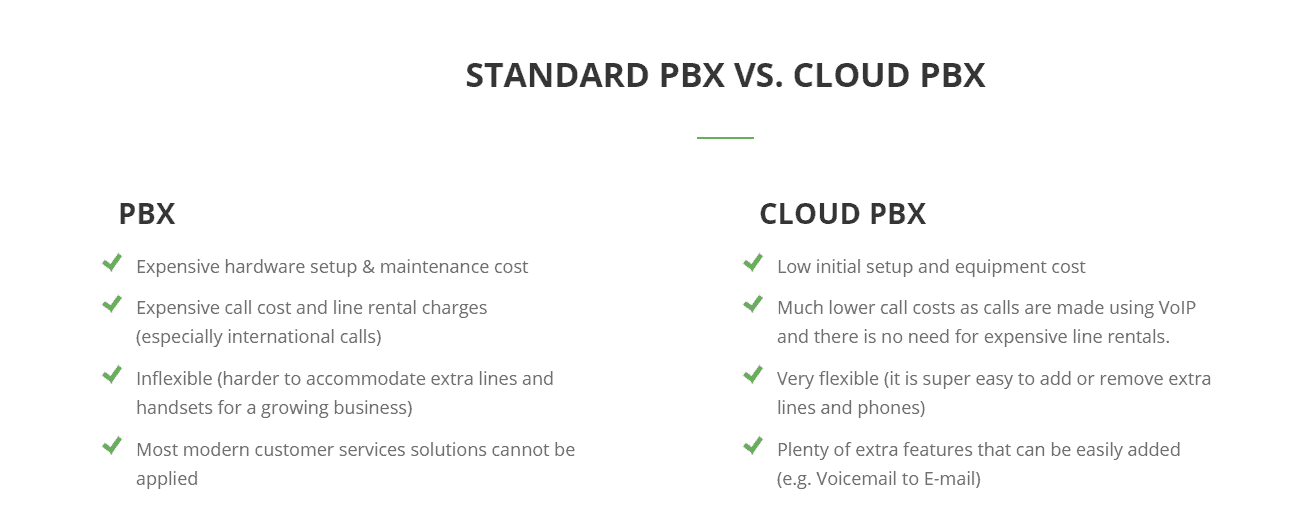 STANDARD PBX VS. CLOUD PBX
 PBX
Expensive hardware setup & maintenance cost
Expensive call cost and line rental charges (especially international calls)
Inflexible (harder to accommodate extra lines and handsets for a growing business)
Most modern customer services solutions cannot be applied
CLOUD PBX
Low initial setup and equipment cost
Much lower call costs as calls are made using VoIP and there is no need for expensive line rentals.
Very flexible (it is super easy to add or remove extra lines and phones)
Plenty of extra features that can be easily added (e.g. Voicemail to E-mail)
Cost benefits of IP Phone Solutions For Small Business
IP systems come at a lot lower cost than traditional Phone system set up. IP based systems eliminate the need to pay up-front for all the hardware including the box on the wall, cards etc and annual maintenance fees.  With an IP based phone system you pay per user and for your calls.
Mobility
With IP phone solutions for small business, you do not need to be tied down to your mainline any longer. Your published telephone number can terminate calls in just about any location you choose on a softphone or mobile app. This means that you can work remotely without your clients knowing that their call has been routed digitally in a different way from usual. Your head office might be forced to close for some reason and, with VoIP, you can instantaneously send calls to a satellite office or to a team of home workers. Not only does this make working in Ireland more flexible but it also means that you can incorporate workers in locations around the world and start to offer services to your customers in every time zone.
Scalability
If your business is expanding by leaps and bounds because of an increase in both customers and staff, upgrading is easy. If an employee reduces or increases, no complicated changes are required. There are no limitations to the number of calls that can be handled by a IP Phone System.  We simply update your software for you. If you wish to augment your phone systems with additional services and features, we can easily add these enhancements for you, with no interruptions.
Features
IP Phone System are feature rich and will include Auto-attendant/IVR, Music on Hold, Voicemail to email, Mobile and Soft Phones for your remote workers and many more.
Be sure to give our team a call with any questions. We have a very experienced team and have been serving businesses across Ireland for 40 years with our telephony services. We are proud to be Ireland's leading VoIP Phone System provider.
Have a question ? Contact us today