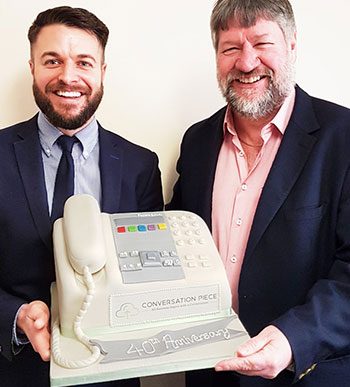 Conversation Piece – an Integral Part of Business Phone Systems History in Ireland
Businesses around the world have been benefiting from telephone systems since the telephone was first invented in the XIX century. Our company has been one of the first early adopters of telecommunication innovations in Ireland since it was founded in 1978.
When Jim Dunne set up Conversation Piece back then, he knew that his business would have to remain at the technological forefront in order to be successful but what he didn't know was how far that technology would go over the next 40 years.
Over the years, Jim and his team have worked tirelessly to bring the best of the best to Irish businesses. In 1992, Conversation Piece became the main partner in Ireland for selling Panasonic Business Systems; in 2001 Conversation Piece acquired from Cable and Wireless their complete key system base becoming a national supplier of business telephone systems with offices in Cork and Dublin; in 2012 Conversation Piece set-up Voice Traffic and broadband side to business and as of 2016 Conversation Piece has a Panasonic and Unify Cloud Solution offering hosted/cloud Telephony and VoIP.
Now, 40 years since Jim first set up his business, Conversation Piece remains a family run business with a team of bright and energetic full-time staff, still determined to provide only the very best.
PBX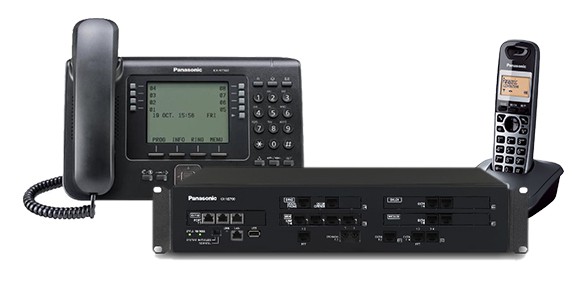 First introduced in the 1960s PBX made telephone calls much cheaper and easier, allowing businesses to reduce their costs and enticing more and more people to join the network. By the 1970s, it was clear that this would be the best way for businesses to serve their clients and as the telephone became indispensable, it was natural that rapid upgrades would have to be made to keep up with demand.
The great leap forward came with TDM PBX which introduced new features such as a dialing tone, call transfer, auto-attendants and hold music that we still recognise and use today. Seeing this development so early on could only confirm that Jim was right: Conversation Piece would have to move quickly to stay ahead of the crowds that were sure to follow.
IP PBX
Given that so many businesses were rapidly expanding and the cost of changing a PBX system was so high, it became clear that another system would soon be required. When IP PBX was introduced, Jim and his team at Conversation Piece got straight onto the trend and started offering the switch over service to their customers.
The trigger for this change was, of course, the internet and by 2008 the vast majority of companies had made the switch. Now, with all the basic features of PBX made easier to use, companies also had a much better chance of recording calls, collecting data and integrating other technologies to allow for voice-to-text or email integration.
VoIP
Of course, in the last 10 years, phone systems have been updated beyond the recognition of previous versions. Now, we all expect that our calls will be digital, fast and secure as a standard. Removing the onsite phone server has brought access to much smaller companies without the prohibitive cost.
As communication has become so much more important, and instant access for both customers and remote colleagues is vital for success, there are now 3 competing ways for businesses to manage their phone systems. Conversation Piece was one of the first companies to take up this new technology and we understand the benefits of them all and can advise you on which is best for your business.
Cloud Phone Systems
As the Cloud has become a much more popular way for businesses to store everything from data to software, it is completely logical that companies will also wish to switch to cloud phone  systems. These systems are ideal for smaller businesses in particular as they require no onsite hardware and can provide top of the range services. Plus, as the Cloud is remote, growing companies can access a scalable model to keep up with their needs.
Onsite Phone Systems
Some companies do still like to have full control of their phone systems, though, and put off by the ongoing charges of having a Cloud Phone system, maintain their own onsite phone system and hardware. Often this is cheaper, but if something goes wrong, you may be stuck while you wait for a repair to be made.
Hybrid Phone Systems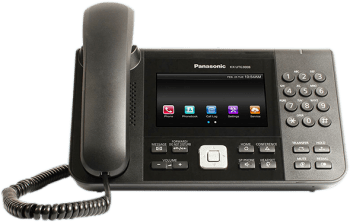 And so to the compromise: hybrid phone systems. If you have an onsite phone system that you are happy with and has not fully depreciated, a hybrid phone system can bring in the elements of cloud phone systems you need to bring your business up to speed. With the best of both worlds, you have the flexibility you need with the control you want and the possibility for scaling later as you grow.
This option is particularly popular with businesses who have offices in remote locations and require a consistent user experience to get the best out of their communications. As hybrid phone systems make use of current hardware and blend in cloud software, you are able to get consistency across the board with every employee.
What's Next For Business Communications?
Already there has been a subtle shift from customers calling companies to use social media to get in touch or using chatbots on websites to field enquiries. However, it seems that these systems are, for now at least, best for helping businesses to locate the right person for the customer to speak to on the phone.
In general, people are still much happier to talk to a colleague about a problem or a question that they are to sit waiting for a response. This means that to get the most out of their phone systems, businesses need to concentrate on how they provide a good customer experience. This means getting to calls quicker, ensuring a high quality of sound on the line, using menus to automatically direct customers and instantly switches from department to department as necessary.
For the modern business, the phone is still at the forefront of everything you do.