Why use VoIP for business? Businesses can enjoy the convenience of VoIP and drastically lower costs by making the switch. Speaking over the telephone remains one of the best ways to create rapport with valued customers and clients. Moreover, despite the growing popularity of Chatbots, speaking with a real person is simply far more personal and valuable. 
Using VoIP For
 Remote Working
The pandemic has drastically impacted how we carry out daily business operations as most employees have been forced to work from home. VoIP is the ideal solution to keep your workforce connected, wherever they are located. VoIP enables businesses to assign soft phones or mobile apps to employees at home and provide them with the full range of features as though they were in the office. 
Boost Productivity
With the ability to attach documents, files, conduct virtual meetings and conferences, IVR systems, and general multi-tasking capabilities with unified communications, all businesses stand to benefit from VoIP. Switching business communications to VoIP increases efficiency and saves time which can be better allocated to other parts of the organisation, thereby potentially increasing overall output and performance as a result. 
Cut Costs & Save Money
Long-distance calling charges, international fees, and high price-per-minute rates of landline technology simply don't have to be an issue for modern businesses. Competitively priced VoIP packages that operate over your internet connection essentially eliminate all these expensive features and allow users to communicate for far lower prices.
Reduced cost is a huge advantage of IP phone systems. Cost is a major factor for businesses, especially large enterprises handling high call volumes and dealing with international clientele. By choosing VoIP as your communication system, you can say goodbye to hefty phone bills. Generally, you can expect to save up to 70-80 per cent when switching from conventional telephone systems to VoIP software.
Superior Flexibility
Perhaps the biggest advantage of internet telephony is its functionality and the flexibility to customise packages that are appropriate for your business conditions, rather than a one-size-fits-all solution. Specific features of VoIP include: 
Automated voicemail

 

Voicemail to E-Mail

 
Remote and Home Workers 

 

Audio and Video Conferencing 

 

Safe and secure VoIP calls for business

 

Call analytics

 

Unified Communications 

 
Our VoIP packages at Conversation Piece offer features that make business communications much easier and add flexibility. The advantages of Voice over Internet Protocol, when it comes to features, simply cannot be matched by traditional landlines. 
Unparalleled Portability
 All you need is an internet connection to access VoIP telephony. Amongst the benefits of VoIP, portability stands out as being extremely portable thanks to the widespread availability of high-speed internet in Ireland and abroad. Your workforce can handle call volumes whether they're in the office or working from home (even if home is abroad).
Portability is an important factor for businesses with an increasingly large workforce going remote. No need to reassign telephone numbers to home addresses with VoIP; simply assign an existing business number in a matter of minutes. 
Easy to Install & Maintain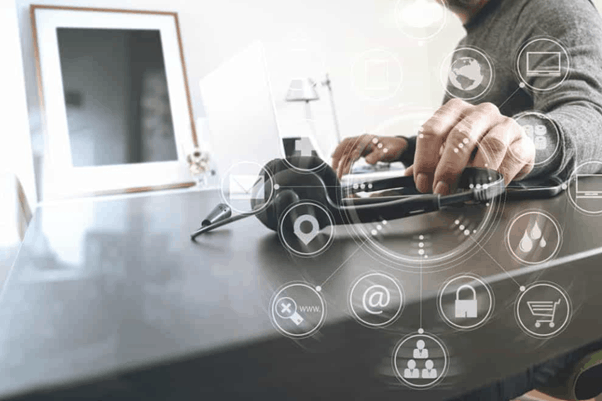 The advantage of internet telephony and VoIP is that your business premises and each individual telephone is no longer reliant on the old infrastructure of copper wires, but instead on an existing internet connection. This means that it's relatively easy to have a secure, hosted PBX system and/or SIP trunk installed.
Furthermore, it's just as simple to troubleshoot and maintain VoIP communications networks since the work can often be carried out remotely. If you're wondering 'why use VoIP for business', the ease of installation and maintenance is a huge advantage for businesses.
This also translates to ease of setup for remote workers, since they're no longer reliant on having new numbers assigned at home addresses, which can be a frustrating endeavour as well as confusing for clients. Easily transfer existing telephone numbers to remote workers and they will be able to respond to clients no matter their location. 
Companies that Use VoIP
Since 2005, more VoIP lines have been installed worldwide than traditional landlines. By 2025 (and probably sooner), it is predicted that internet-based communications technology would largely supersede the old-fashioned 'copper wires' of conventional phone lines. So far, this has already come to pass.
As more and more companies adopt VoIP for business telephony and all-in-one communications, it is expected that it will eventually completely replace conventional lines and become the norm in Ireland and elsewhere. Since VoIP is scalable, it is suitable for every type of business, all the way from start-ups up to large corporations. 
Why Use VoIP for Business?
Easy scalability is another reason to use VoIP for your business. The scalability of VoIP solutions means your business operations grow, adding new phone lines and updating existing systems is easy and simple. Since VoIP can handle multiple calls simultaneously, there's no need to adjust infrastructure and IT asset requirements aside from perhaps purchasing a few new handsets.
Conversation Piece offers comprehensive VoIP telephony packages at competitive prices.  
Quality VoIP Solutions from Conversation Piece
For superior B2B communications for small, medium and large enterprises, get in touch with Conversation Piece, your leading VoIP provider in Ireland.  
Explore our VoIP packages and cloud-based PBX systems and experience quality communications at competitive prices.
Our team of VoIP experts can provide your business with a free quote and walk you through our products to determine which package is best for your business needs.